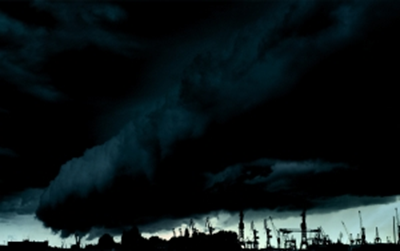 UPDATE:  Google has restored Thomas' service and data.  It turns out that Google had a very good reason to suspend Thomas' account.  However, Google will be reviewing its policies to hopefully be more transparent and allow for appeals.
Thomas Monopoly is having a really bad week.  Thomas (real name Dylan M.) was a Google fan: he owned Google stock, paid for Google storage, and had moved nearly his entire digital world to the Google cloud.  Then Thomas allegedly did something wrong, and Google terminated his digital life. 
Google accused Thomas of violating its Terms of Service and apparently killed his entire online presence.  Thomas lost his website, email accounts, banking info, student records, 7 years of correspondence, 4,800 photographs and videos, 200 contacts, 500 articles saved for scholarship purposes, Google Voice messages, all his bookmarks, documents, backups, calendar with doctor's appointments and important meetings, community calendars, medical records, and some very important notes.
Always Backup Your Data
First off, WTF was Thomas thinking storing all his digital eggs in one cloud basket?  The key benefit of digital over tangible is we can make unlimited free copies of our digital stuff.  Hard drives and online storage are cheap.  There's simply no excuse to not backup our data.  You'll find backup tips at the end of this article.
So Thomas made a big mistake trusting all his data to a single service and not keeping a separate backup.  On the other hand, it's easy to be lured into complacency by the ease and typical reliability of the cloud.
Google is Not Evil
Google is a good company.  Google has greatly advanced the human race with its search engine, delivering the world's collective knowledge to our fingertips.  Google provides great value with all of its free software, in exchange for our eyeballs watching its ads.  And Google contributes significantly to open source software including its Android mobile operating system.
Google made the early misstep of declaring its mantra as "Don't Be Evil," so every mistake along the way becomes amplified in the blogosphere as evidence of how Google is turning to the dark side.  Like all big companies, Google will at times dismiss the needs of the little guy or go too far in its hunt for profits.  But in most cases, Google eventually does the right thing, and will likely do the right thing in this case too.  Eventually.
Cloudy Justice
Transparency is key, but in this case the Google justice system is quite cloudy.  Imagine if American justice worked this way.  You could be sitting in your living room watching TV, when police could bust in your door, take all of your stuff, and kick you to the street.  No explanation, no chance to face your accuser or appeal your case.  They are judge, jury and executioner, and you're burnt toast.
If people keep getting burned like Thomas, they won't be willing to trust the cloud.  Going forward, it's important for cloud services to provide a justice system that includes these key elements:
Charges.  A user who violates Terms of Service should be explicitly notified of all his violations.

Appeal.  The user should have a legitimate opportunity to correct any problems, appeal violations, and potentially have his service restored.

Access.  If the user did not commit a crime, the user should be able to download all of his digital data in an open format*, even if he has been banished from the service.

Backup.  Services should provide a free way to download and backup all of a user's digital data on a frequent basis.
*Data should be available in an open format — such as vCard and vCalendar — that can be easily imported by other services.  It doesn't do any good if a user is banned from a service, and all his data is stored in that service's proprietary format.
Do No Evil, Google
As of this writing, Thomas is still in the dark about what he did wrong to lose all his data.  By now Google certainly knows about this brewing controversy, though so far has not commented officially.  But Google also has its hands full of problems after mass deleting Google+ social network accounts.
We the people are trusting an increasing amount of our digital lives to the cloud.  Therefore, cloud companies like Google, Apple, Amazon and Facebook should do more to earn and keep our trust.  And that means operating more like the USA and less like Iran.
Backup Tips
The golden rule of data is:
Frequently backup your important digital files in at least 2 separate locations.
So if most of your data resides in the cloud, you'll want to maintain a local backup on your home computer. There are Cloud-to-Home backup services such as Backupify, and other free ways to backup GMail and all of your Google data.
If most of your data resides on your home computer, you'll want to backup your data somewhere else. Home-to-Cloud backup services include Carbonite, Mozy and DropBox. Or you can backup to external hard drives and store them at your office or a relative's home. Backup software includes TrueImage, open-source Amanda, and Windows 7 Backup.
And be sure to occasionally test the integrity of your backups.  There's an old saying that, "Backups are only as good as the last restore."
Despite our best efforts, sometimes we lose data.  I'm meticulous about backups and I've lost data a few times.  Stuff happens.  But let's hope that Google gives Thomas an explanation and his data.
Article published on July 25, 2011
One Response to "Beware the Cloud"
omgReviews Says:
July 26th, 2011 at 9:42 am

There was a big fuss about this stuff the other day about Google plus. A bunch of popular bloggers were being banned, but were later restored. Apparently they are working on a better system to warn Google plus users if they are violating the terms of service with their name.
Leave a Reply