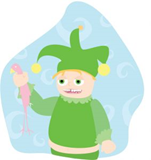 April Fool's Day is tomorrow, April 1st.  It's an annual "holiday" when humor reigns, and pranks and practical jokes are expected and allowed. 
Computers are a great medium for April Fool's jokers because most users have no clue what goes on behind those blinking computer lights.  So when a hapless user is hit with a computer prank, they immediately suspect a malfunction, virus or worse.
Normally DevTopics is a source of helpful information to increase your knowledge and productivity, but today we will help you be a little naughty.  Following are the best April Fool's computer pranks found on the Web.