This is part 17 in a series of articles on obscure programming languages.
What is QCL?
QCL (Quantum Computer Language) is one of the first quantum programming languages.  QCL is a high-level, architecture-independent programming language for quantum computers.  Its syntax and data types are similar to those in the C programming language.  Programmers can combine classical C code and quantum code into a single source code base.
Quantum Computing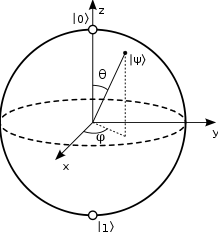 A quantum computer is a computational device that takes advantage of quantum mechanics phenomena — such as superposition and entanglement — to solve problems significantly faster than traditional computers.  For example, superposition means that particles exist not in a single state but in all possible states at once.  So a quantum computer may be able to compute all states of a given problem simultaneously, and therefore operate much faster than a traditional computer, which can work on only one state at a time per processor.  Hence, a quantum computer can act like a massively-parallel-processor computer.
Although quantum computing is still in its infancy, scientists have performed experiments on a small number of quantum bits (qubits).  Many government and military agencies are researching quantum computing for both civilian and military purposes, such as cryptanalysis.