Two years after Epic Games revealed Unreal Engine 5 with a gorgeous tech demo, the next-gen game engine is officially available, Epic Games announced on Tuesday. The latest edition of the benchmark game development engine touts a new "fully dynamic global illumination" tool, plus a geometry system that allows creators to build games with "massive amounts of geometric detail." After being available in Early Access since May 2021 and Preview since February 2022, Epic Games has now released Unreal Engine 5 which will no doubt go on to power some of the biggest upcoming releases.
Epic announced Unreal Engine 5's launch with a Twitch and YouTube live stream showing high-performance visuals and real-time rendering. Unreal Engine 5 will also use a new World Partition system that, Epic says, "changes how levels are managed and streamed," by dividing up the game world into a grid and streaming only its necessary cells.
Unreal Engine 5 is Epic's latest in the line of game engines available to game developers big and small. While the release of a new game engine isn't typically news that excites folks until video games start getting made with them, Epic first revealed Unreal Engine 5 with a blockbuster tech demo Called Lumen in the Land of Nanite, the tech demo was made to specifically demonstrate two of the marquis features of Unreal Engine 5. Lumen is a dynamic illumination tool where the light adapts to the world naturally and easily.
"With this release, we aim to empower both large and small teams to really push the boundaries of what's possible, visually and interactively. UE5 will enable you to realize next-generation real-time 3D content and experiences with greater freedom, fidelity, and flexibility than ever before." — Epic Games.
Epic also said that developers would be able to continue using "workflows supported in UE 4.27" but get access to the redesigned Unreal Editor, better performance, improved path tracing, and the list goes on.
A "preview" version of Unreal Engine 5 has been available for a while now, but on Tuesday it officially took Unreal Engine 4's place as the current Unreal version: Unreal Engine 5 is out now. We can expect new Unreal-based games to use the latest engine, as well as many in-progress games, such as Stalker 2, the next Tomb Raider (also announced that day), and games from developers such as Remedy, Obsidian, and Ninja Theory. The video embedded above is a new UE5 tech demo compilation from Gears of War studio The Coalition.
Two new starter samples have also been made for developers: Lyra Starter Game, City Sample

Lyra Starter Game
Lyra Starter Game is a sample gameplay project built alongside Unreal Engine 5 development to serve as an excellent starting point for creating new games, as well as a hands-on learning resource. We plan to continue to upgrade this living project with future releases to demonstrate our latest best practices.

City Sample
The City Sample is a free downloadable sample project that reveals how the city scene from The Matrix Awakens: An Unreal Engine 5 Experience was built. The project—which consists of a complete city with buildings, vehicles, and crowds of MetaHuman characters—demonstrates how we used new and improved systems in Unreal Engine 5 to create the experience.
You will also find plenty of Linux and Vulkan improvements for Unreal Engine 5 including: Nanite and Lumen (with software ray tracing only) on Linux, the Unreal Build Tool was also upgraded to support Clang's sanitizers for Linux (and Android), Vulkan and Linux support was also added to their "GameplayMediaEncoder", compliant 64-bit image atomics in Vulkan that fixes all validation issues with 64-bit atomics and allows the use of RADV driver (AMD + Linux) for Nanite and Lumen, multiple crashes were solved for Linux. There are some features specific to open-world games, too, which may be useful for CD Projekt Red's new Witcher game; the studio announced last month that it's switching to Unreal Engine 5. One of those features is World Partition, which handles the on-the-fly loading and unloading of open worlds as players move through them. Adoption of UE5 will mean different things for different studios, but the big themes are workflow streamlining and high-fidelity geometry and lighting. The 2020 Unreal Engine 5 reveals video leads with its new "micro polygon geometry system," Nanite, and its "global illumination solution," Lumen. With Nanite and Lumen, Epic says that developers can import film-quality 3D assets with "massive amounts of geometric detail" and set up dynamic lights without worrying about certain complex technical steps, especially those to do with optimization. The engine handles the 'making it run on our PCs' part, or at least more of it.
UE5 also includes new modeling and animation tools, "a fundamentally new way of making audio," and other features meant to simplify the work of game development and keep as much of it as possible in the Unreal Engine development environment. In fact, using Epic's Quixel Megascans (super detailed environment models) and MetaHumans (realistic, customizable human models), which are free to use in Unreal Engine projects, you can make a playable game without ever minimizing the UE5 dev kit.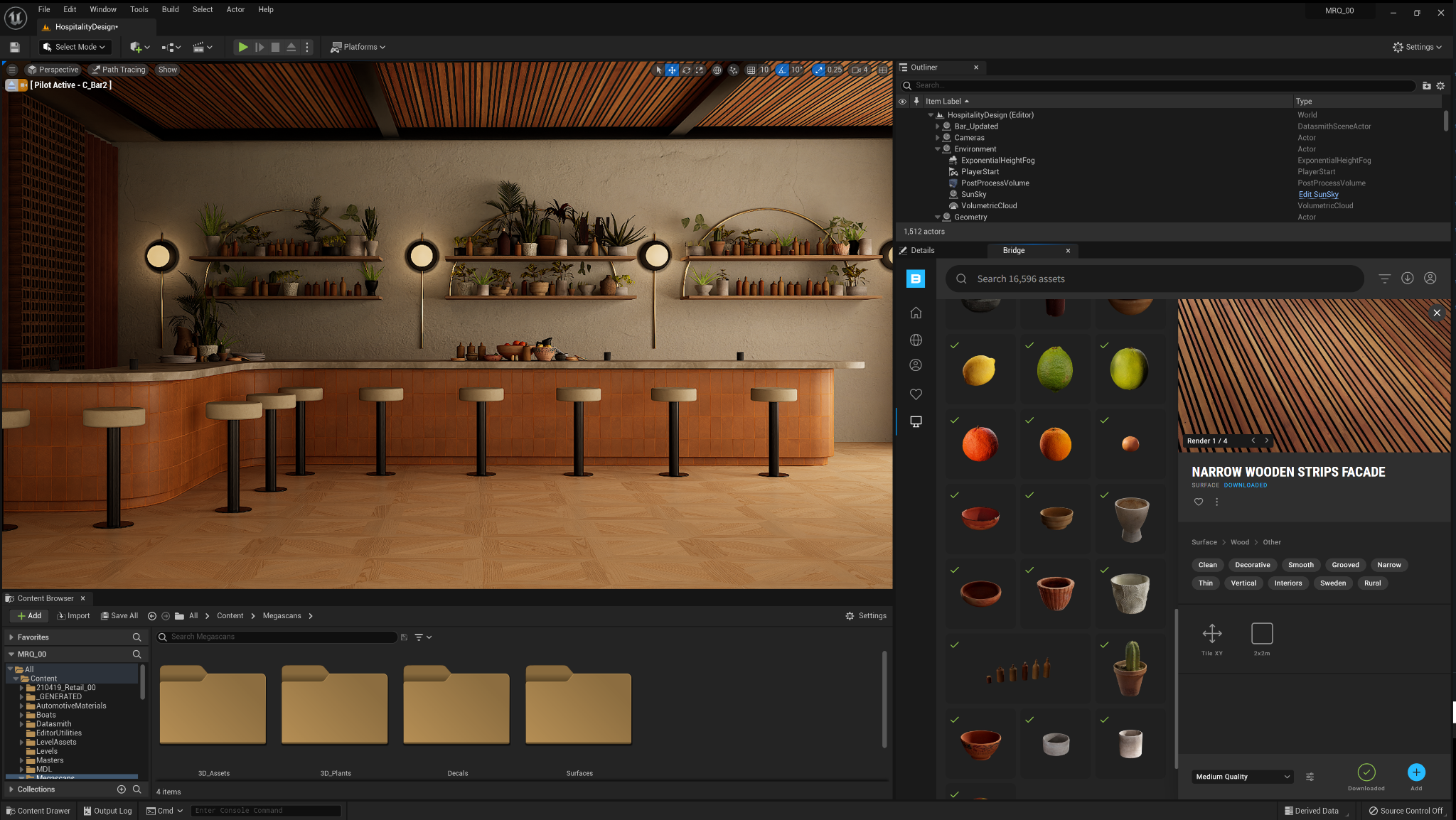 Another interesting fact about Unreal Engine 5 is, like the previous version, Unreal Engine 5 is free to download and use; Epic doesn't collect royalties on indie games until they've earned over $1 million in revenue. It is now available on the Epic Games launcher. If you already had the UE5 preview version installed, it's about a 5 GB update.
Tags: Development, Software