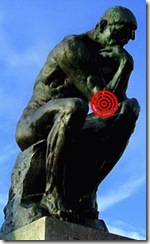 I was diagnosed with cubital tunnel syndrome 3 years ago.  My symptoms were considered "moderate": measurable loss of nerve conduction, moderate to severe pain at times, slight numbness, some weakness, but no atrophy.  I had been attempting conservative treatment, including wearing a splint at night, wrist brace during the day, exercises, special computer keyboard and mouse, and pain medication. 
But the pain wouldn't go away, especially while using the computer, which is my job as a software developer.  So my doctor finally decided it was time for surgery, and given that my symptoms were not yet severe, he recommended ulnar decompression surgery.  This article describes my experience with ulnar decompression surgery for cubital tunnel syndrome.
Read the rest of this article at Cubital-Tunnel.com
Image: "Cubital Thinker" Copyright © 2008 Tiwebb, Ltd.