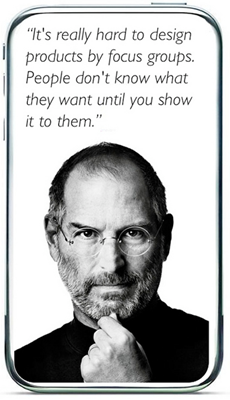 Apple is expected to announce the iPhone 5 today at a major press event.  A PriceGrabber survey in July showed that a whopping 35% of respondents want to buy the yet-unseen iPhone 5 when it hits the market.  The iPhone 5 is arguably the most anticipated tech product of 2011.  It's also the first major product released since tech legend Steve Jobs retired as CEO of Apple.
Mr. Jobs plans to remain Chairman of the Apple board.  COO Tim Cook has taken the helm as full-time CEO.  Cook had already served as Apple's temporary CEO a few times since 2004 when Jobs was on medical leave due to pancreatic cancer. 
Cook has done a great job running Apple's day-to-day operations while Jobs has been ill.  Cook is widely credited with getting Apple out of the hardware manufacturing business.  This helped the company reduce inventory levels, streamline its supply chain, and dramatically increase margins.
But a good businessman is not the same as a visionary technical genius.
The day after Jobs announced his retirement, Apple stock briefly plunged 5% before recovering.  Investors seem confident that Apple's winning ways will continue with Jobs as chairman.  Many industry analysts were also quick to minimize the impact Jobs' retirement would have on Apple:
But one has to look no further than industry behemoth Microsoft for a cautionary tale of what happens when a cutting edge technology company loses its visionary leader.
As I detailed in my article Bye Bye Ballmer, Microsoft ruled the technology industry for two decades under dynamic duo Bill Gates and Steve Ballmer.  Then Gates retired as CEO in January 2000 to embark on his much more important mission to save the world, businessman Ballmer took control of Microsoft, and the result was just what you'd expect if Batman ceded Gotham to Robin.
Microsoft rested on its Windows and Office laurels the past decade while it was out-innovated by Apple and Google.  In spite of having a decade head-start, Microsoft completely missed the smartphone and tablet wave.  Microsoft also suffered serious missteps with the Kin phone that was pulled from the market 3 weeks after launch, the Zune MP3 player that couldn't even make a dent in the market against the iPod, and a buggy bloated Vista that made businesses question whether they still needed a full-fledged Windows PC for every worker.
If a picture is worth a thousand words, then this Microsoft stock chart says it all: Skyrocketing growth flatlines after technical visionary cedes control.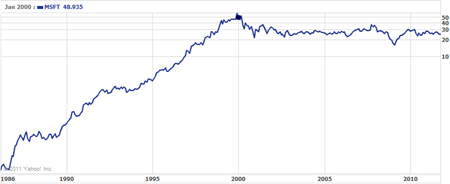 Apple became the world's largest technology company because of its critical attention to design and detail.  Apple makes elegant products that work simply and simply work.  And while each of its 46,000 employees had a hand in Apple's success, the company's overall direction and principles were driven by the irreplaceable Steve Jobs.
Apple will surely do fine the next few years with the iPhone 5 and iPad 3 in the pipeline.  But unless Tim Cook is a visionary technical genius in disguise, Apple's long-term success is in doubt.
Article published on October 4, 2011
6 Responses to "No, Apple Won't Do "Just Fine" Without Steve Jobs"
Leave a Reply