There's an image making its rounds on the Web that says "Piracy is Not Theft" because it makes a copy and leaves the original intact: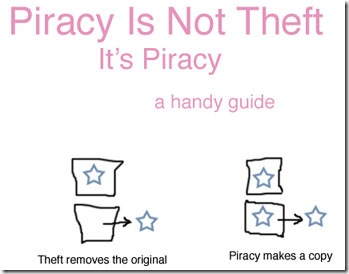 The diagram itself is correct.  Piracy simply makes a copy of the song/video/software.  The original remains intact, and the owner doesn't lose a copy when someone pirates it.
This is because stealing a digital work is not like stealing a tangible item.  Pirating a digital video off BitTorrent is not the same as shoplifting a DVD from BestBuy.  As the diagram above shows, when you shoplift a DVD from BestBuy, you are removing the original, which BestBuy can no longer sell and therefore loses money.  When you pirate the same movie from BitTorrent, the studio that released the movie does not lose a copy, and can continue to sell the movie to others.
But BestBuy and the movie studios are not in business to sell things.  They're in business to make money.  (Gasp!  Making money?  Those capitalist pigs!)
A much better analogy for digital piracy is sneaking into a theater to watch a movie.  You are not stealing a copy of that movie, and the theater is free to show the movie to others.  But you are stealing revenue that the theater would have earned had you rightfully purchased a ticket.
So when you pirate music, video or software, you are stealing income from the seller.  You are receiving something of value without paying for it.  Here is another take on the diagram: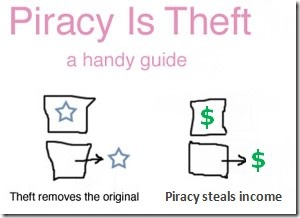 So if someone is a pirate, they are also a thief.  It doesn't make them a bad person, but they are still stealing from someone else.
Let the flames begin.
Article published on August 27, 2008
78 Responses to "No, Silly, Piracy is Theft"
Leave a Reply