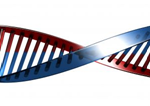 The purpose of synthetic biology is to create new biological systems not found in nature to solve pressing problems. 
The "ultimate dream is to design these systems at a high level of abstraction using engineering-based tools and programming languages, press a button, and have the design translated to DNA sequences that can be synthesized and put to work in living cells."
Microsoft Research has introduced programming languages that can model these synthetic systems.  Proteins and genes are expressed in a modular manner, and the program can then calculate and simulate the reactions to determine whether the synthetic biology will solve the problem at hand.
The result is GEC and LBS, two languages for modeling in synthetic biology and systems biology, respectively.  The GEC-LBS Tools package includes the GEC and LBS compilers and prototype Windows applications.
Article published on June 8, 2010
5 Responses to "Programming Language for Genetic Engineering"
Leave a Reply