Nobody knows better than Microsoft that programming can be a drag. Even with all of the amazing advances in software development, computer programming is still a relatively solitary process that requires deep expertise, logical and creative thinking, and lots of patience.
So Microsoft comes to the rescue with Small Basic, a project that's "aimed at bringing fun back to programming." Small Basic provides a small and simple programming language in a friendly development environment. Small Basic is targeted to both kids and novice adults, allowing them to "take the first step into the wonderful world of programming."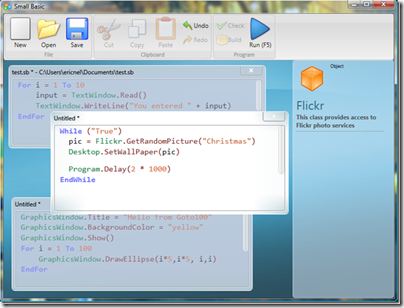 Microsoft touts the following advantages of Small Basic:
Small Basic was inspired by the original BASIC programming language. The language itself is really small with only 15 keywords and uses minimal concepts to keep the barrier to entry as low as possible.
Small Basic is based on the Microsoft .Net platform.
The Small Basic development environment is simple, yet it provides powerful features like Intellisense™ and context sensitive help.
Small Basic enables developers to easily plug in third-party libraries.
For More Information
Article published on November 10, 2008
Leave a Reply