UPDATE:  Problem solved!  The VMWare add-in VMDebugger was the culprit.
I recently upgraded to Visual Studio 2010 and had a rude awakening: VS2010 starts up very sloooooow.  I have a 2-year-old dual core laptop.  Visual Studio 2008 starts in about 3 seconds.  The first time I start VS2010, it takes about 55 seconds.  Subsequent startups take 25-30 seconds.  The hard drive doesn't thrash; instead, the splash screen just sits there for a half minute before the IDE finally opens.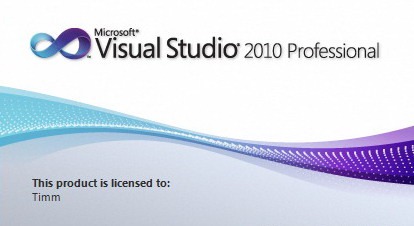 There are plenty of complaints online about VS2010 poor performance:
Here is Microsoft's response:
I'm sorry to hear about all the performance issues you've been having with VS2010.  The majority of customers actually find it faster than VS2008; however, we know there is still room for improvement.
Unfortunately there are few solutions, none of which worked for me:
Disable add-ins and extensions
There are rumors that VS2010's poor performance is the result of Microsoft using Windows Presentation Foundation (WPF) for the UI.  Problems with WPF and .NET performance in general recently caused Evernote to abandon .NET for native code.
As a result of VS2010 poor performance, I have reverted back to Visual Studio 2008 for most of my development projects.  I use VS2010 only because it's required for Windows Phone 7 and Android development using Mono-Droid.  Hopefully Microsoft will fix these issues in SP1.
Article published on November 20, 2010
9 Responses to "Visual Studio 2010 Slow Startup"
Leave a Reply