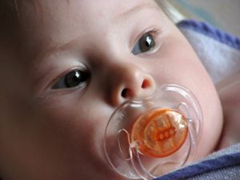 DotNetBaby says, "I'm an expert on sucking, and I can assure you that C# doesn't suck."
YourLanguageSucks is a wiki on theory.org that lists reasons why the most popular programming languages suck.  There are long lists of reasons why Java, JavaScript, C++ and PHP suck.  But the list for C# is very short:
Supports 'goto'.
Two distinct sets of collections: non-generic and generic.  Stack and Queue have the same name in both their generic and non-generic flavors, but then we have Hashtable (non-generic) and Dictionary (generic).
The first reason is easy to discount: just avoid using goto!  The second reason is valid, but not really an issue if you use only generic collections, as I do.
I'm a huge C# fan (obviously, check out this blog) but I could add a few reasons to the list of why C# sucks:
.NET doesn't run natively on iOS, Android, WebOS, etc.
.NET does not fulfill the promise of a unifying framework.  WinForms, WebForms, Compact Framework, Silverlight, WPF, and XNA all require different implementations instead of a single codebase.
Newer versions of the .NET Framework are not automatically included with older versions of Windows.  Users must download and install the large .NET runtime, and many won't bother.
CIL bytecode is very easy to reverse engineer and thus requires obfuscation.
However, these criticisms are actually directed at the .NET Framework as a whole, and not C# itself.  So the verdict is in: C# Doesn't Suck!
Article published on July 13, 2011
4 Responses to "Apparently C# Doesn't Suck"
Leave a Reply