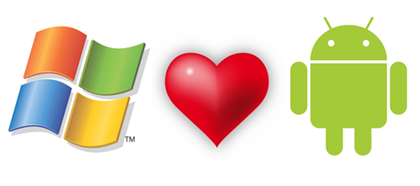 If you can't beat 'em, join 'em.  This seems to be Microsoft's new mantra for mobile. 
Microsoft missed the initial smartphone wave in spite of having a decade head start with Windows Mobile and the Pocket PC.  Now Microsoft is playing a hurried game of catchup with Windows Phone 7. 
But the immediate future is not looking good for Windows Phone.  The most recent data from comScore shows that Microsoft's share of smartphone subscribers is only 6% and continues to fall.  Whereas Android's share is 38% and rising at a fast clip.  Apple's 27% share of smartphone subscribers is also growing, though at a slower rate.
The Android explosion is not all bad news for Microsoft, however.  MobileCrunch reports that Microsoft is earning 5 times more revenue from its patents on components of the Android operating system than it is from Windows Phone.  That's $150 million from Android versus $30 million from Windows Phone.
Each Android phone sold by HTC earns Microsoft a $5 licensing fee, and Microsoft is asking Samsung for $15 per Android phone.  Microsoft has yet to approach the other Android phone manufacturers, but there are a lot of them, and Microsoft will surely be knocking on all their doors soon.  This lucrative revenue stream will continue to grow with the Android platform, which is enjoying 500,000 new activations per day. 
This is a smart move for Microsoft.  The company finds itself in the unusual position as underdog on a major computing platform.  Microsoft needs to do whatever it can to be a player in mobile.  If you can't be the star, you can always ride their coattails.  But the mobile contest is far from decided.  It's still anybody's market to own.  We should have a better idea by 2015.
Article published on July 6, 2011
8 Responses to "Microsoft Finds Android to be More Lucrative than Windows Phone"
Leave a Reply