This is part 10 in a series of articles on obscure programming languages.
What is JADE?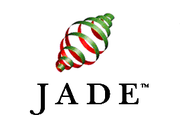 JADE is an object-oriented software development platform.  It has its own programming language that seamlessly integrates an application server and object-oriented database management system.  JADE also provides APIs for other languages such as .NET, Java, C/C++ and Web services.
As a programming language, JADE's main competitors are Java and C#, while as a database it competes with other object-oriented databases and post-relational databases such as Versant, Caché and Matisse, as well as with traditional relational database software packages such as Oracle and Microsoft SQL Server. 
JADE Syntax and Model
JADE's syntax is based on the language Modula-2, which was derived from Pascal.  As a newer language, JADE includes innovations not present in either Pascal or Modula-2, however it lacks certain features of other modern object-oriented languages such as C# and Java.  For example, JADE does not support the overloading of methods or operators, though JADE developers claim they don't miss this feature.  One important OO feature missing from JADE is parameterized constructors.  This could lead to unintended results given that a developer can never be sure if an object has been properly initialized.
Another negative of JADE is that the platform requires per-process fees, which makes JADE less suitable for widespread commercial deployment.  A free limited license is available for developers.
JADE History
JADE was conceived by Sir Gilbert Simpson and is currently developed by the Jade Software Corporation.  JADE was first released in September 1996.  JADE is used throughout the public hospitals in Australia's Northern Territory and powers the scheduling software for Britain's largest rail freight operator.  The latest version is JADE 6.3.3.
"Hello World" in JADE
helloWorld();

begin
   write "Hello, World!";
end;
References
Article published on June 3, 2009
6 Responses to "JADE: Obscure Programming Language of the Month"
Leave a Reply