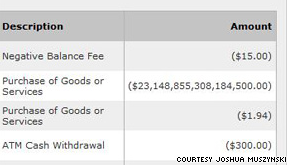 Many Visa prepaid cardholders were stunned when they opened their bill Monday to discover a $23,148,855,308,184,500 charge.  That's $23 quadrillion, which exceeds the combined GDP of every country on the planet.
Josh Muszynski, 22, of Manchester, New Hampshire, was one of the unlucky Visa customers.  Adding insult to injury, he was also charged a $15 overdraft fee.  According to his statement, he spent all that money in one transaction at a nearby Mobil gas station where he often stops for Camel cigarettes.
He checked with the gas station, but they had no record of the charge.  Next he called his card issuer Bank of America, which put him on hold for two hours.  Eventually a bank rep told him the charge and overdraft fee would be removed from his account.
In a statement, Visa said the bad charges affected "fewer than 13,000 prepaid transactions" and resulted from a "temporary programming error at Visa Debit Processing Services … [which] caused some transactions to be inaccurately posted to a small number of Visa prepaid accounts."
Story at CNN
Stupid Is As Stupid Does
Article published on July 16, 2009
Leave a Reply