In the "old days" of typewriters, forensic scientists could match a ransom note to the typewriter that produced it to apprehend the kidnappers.  This was possible because microscopic differences in the metal letters produced a "typographical fingerprint" that could be identified from any page printed on that typewriter. 
As a result, it became fashionable to produce ransom notes with disparate letters cut from a magazine, such as: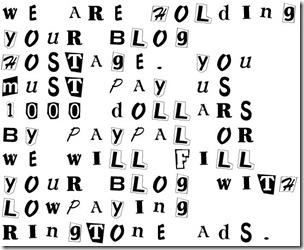 Today, computer printers are highly precise instruments that make it nearly impossible to distinguish between pages printed on the same brand printer.  However, an article in USA Today describes how many color laser printers leave microscopic yellow dots on each printed page to identify the printer's serial number and ultimately, you.
Apparently the technology has been used for years, but the decreasing price and increasing popularity of color laser printers is renewing privacy concerns.  The dots are invisible to the naked eye but can be seen using a blue LED light.  The dots are produced only on color laser printers and not ink-jet printers, which most consumers use.  The dots indicate the printer's serial number and the time and date a page was printed.  With typewriters, authorities required access to the typewriter to perform a match.  With the dots, however, authorities can determine the printer's serial number from any printed page and can contact the printer's manufacturer to locate the owner.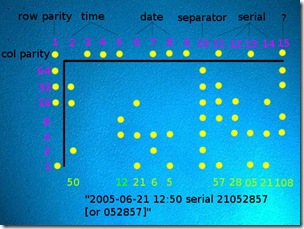 The Secret Service uses these dots to identify counterfeiters using color laser printers to produce fake money.  But privacy advocates worry that authorities could use the dots to arrest political dissidents, whistle-blowers or anyone who wishes to remain anonymous.
"There's nothing about this technology that limits its application to counterfeit investigations," says Seth Schoen from the Electronic Frontier Foundation.  "Some people who aren't doing anything wrong may have their privacy threatened."  Schoen's tests have found the dots on 111 color laser printers made by 13 companies including Xerox, Canon, HP, Epson and Brother.
Lorelei Pagano, director of the Central Bank Counterfeit Deterrence Group, claims the U.S. Secret Service is the only agency that has the ability to decode the information.  Agency spokesman Ed Donovan says the Secret Service uses the dots only to investigate counterfeiting.  Can we trust this promise from a government that admits to spying on its citizens without a court order?
Article published on July 15, 2008
Tags: Color Laser Printers, Yellow Dots

4 Responses to "How Your Color Printer and Little Yellow Dots May Ruin Your Privacy"
Leave a Reply