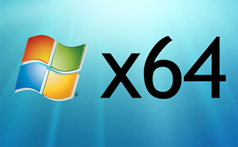 I bought a laptop in June 2008 with 64-bit Windows Vista installed.  At that time, Windows x64 was relatively new, so I encountered a few problems with incompatible hardware and software that required an upgrade to 64-bit drivers.
Now in August 2010, most of the incompatibilities have been solved as x64 has gone mainstream.  At the local Best Buy today, perhaps 90% of the full-featured laptops run 64-bit Windows 7 Home Premium.  This makes sense because most new laptops come with 4-8 GB RAM, and you must run 64-bit Windows to access more than 3GB RAM.
64-bit Benefits
Here are the key benefits of running 64-bit Windows instead of 32-bit:
More Memory.  Native Windows x64 applications can address up to 2 terabytes (TB) of physical memory.  The system kernel and each process can access up to 8 TB of virtual memory.  Whereas 32-bit Windows uses a flat, 32-bit virtual address space that by default is split into two buckets: 2GB for the operating system, and 2GB for user applications.  More addressable memory in x64 means less reading and writing to disk, which leads to…
Better Performance.  Windows x64 often runs faster than x32 because it has more addressable memory (as just noted) and double the number of registers that are also double in size.  This also results in faster function calls because arguments can be passed in registers to a function instead of pushing and popping arguments onto the stack for every operation.  This also results in faster floating-point operations.
More Secure.  The x64 is more secure, with better overflow protection and an extra bit that provides data execution protection (DEP) to ensure memory is not being manipulated or data memory being used to execute malicious code.  Patch Guard, which is exclusive to x64, prevents the Windows kernel from being hijacked or patched.
64-Bit Issues
But as I discussed above, there are still some issues with running 64-bit Windows:
Incompatibilities.  All kernel mode drivers and Windows Shell handlers must be compiled specifically for 64-bit systems, meaning that you will need to find 64-bit upgrades for drivers and Windows Explorer menu items, for example.
No DOS or 16-bit Windows.  DOS and 16-bit Windows applications are not supported in Windows x64.  However, 32-bit and 64-bit console applications are supported.
No Legacy Networks.  Legacy networking protocols such as NetBEUI, Data Link Control (DLC), and AppleTalk are not supported in Windows x64.
Benefits of Microsoft Windows x64 Editions
Article published on August 10, 2010
11 Responses to "Advantages of 64-Bit Windows"
Leave a Reply